2023.02.16
CloudRoom News
Smartly Organize Your Office Documents with CloudRoom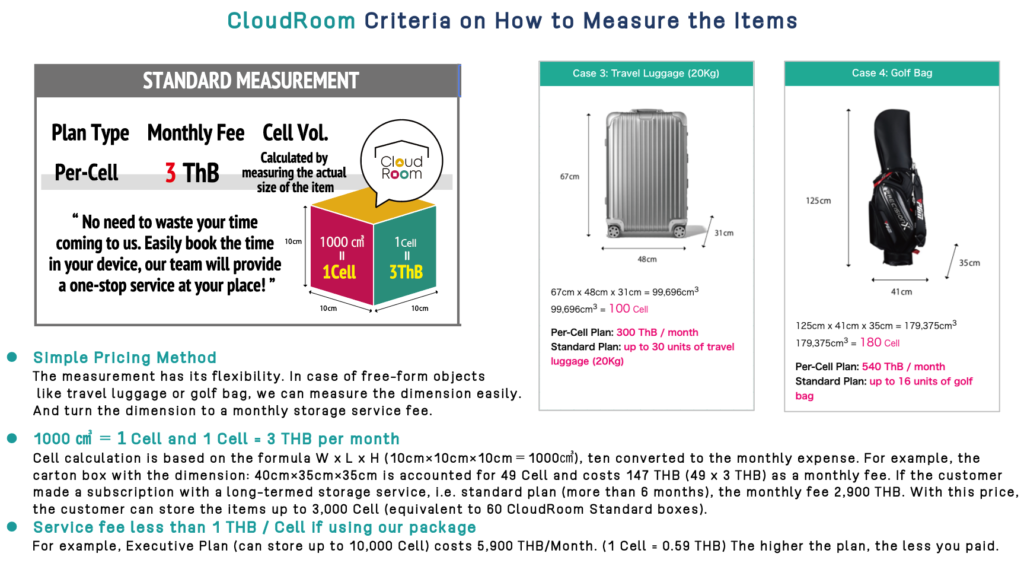 Accounting document management is significant for every single firm. Not only are the documents used as evidence for accounting records, but the company is also responsible of storing accounting documents for auditing purposes. The accounting documents can be utilized as evidence for tax reference, submission or inspection based on the regulations of the Revenue Department. In any cases of disputes, accounting documents are to be presented as evidence for verification and confirmation. According to the Accounting Act B.E.2543 of Thailand, accounting documents must be kept to be inspected for 5 years. It's inevitable for every registered companies across Thailand to prepare a warehouse for storing accounting documents to prevent them from being lost or damaged. Therefore, CloudRoom offers a novel storage solution for organizations and business owners to alleviate the strain of accounting management for the organization. The benefits of utilizing CloudRoom's accounting document storage service include:
Storage Fee Based on The Actual Dimension.
CloudRoom offers all the co-sharing space for the storage for our customers. There is no need for you to pay for a pricey room rental to store your personal belongings. Hence, it helps you save costs in managing accounting documents by eliminating the need to pay for rent or space for storage. Instead, the storage fee is calculated based on the actual dimension of the stored object (in this case is document box or binder folder), making it more cost-effective and preventing loss of space.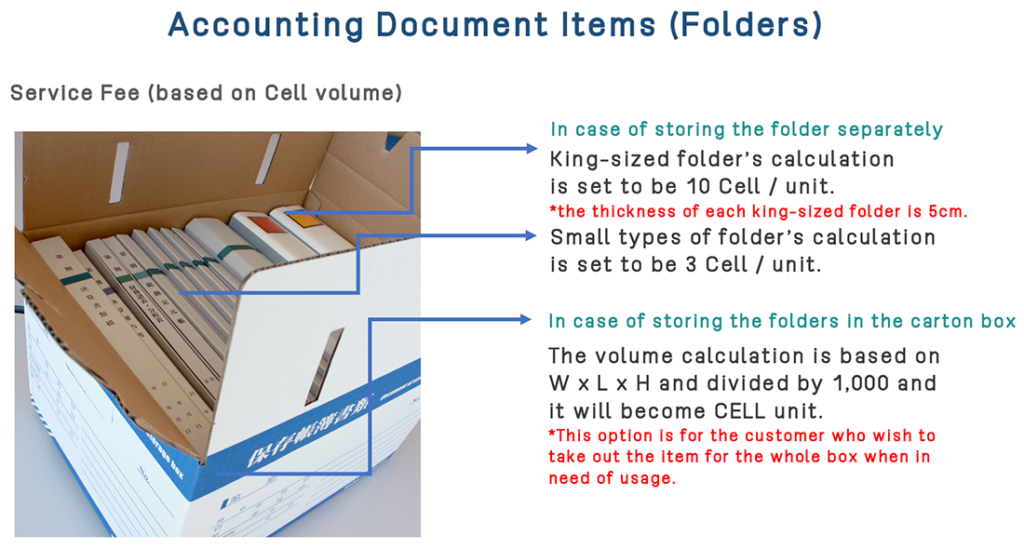 Many Cost-effective Packages to Choose
Value for money! The more you store, the cheaper it gets. This effectively provides affordable storage expenses especially for corporate customers. Starting with the smallest package, Entry plan, which can store up to 400 Cell (Equivalent to 8 units of CloudRoom standard boxes 35x48x31 cm3), and costs only 900 THB/month.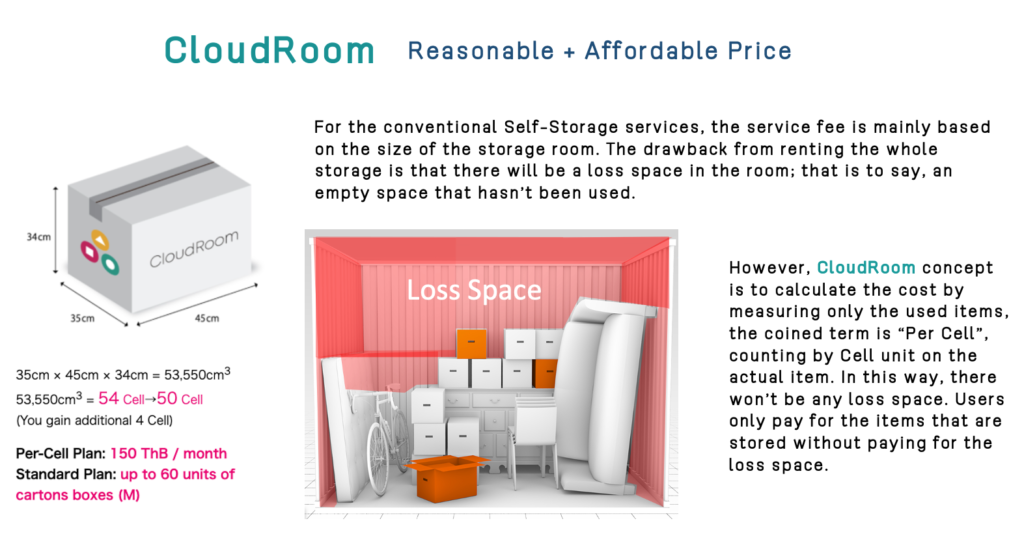 Free Shipping for A Long-Termed Subscription
Every single package has its perk for our customers. For the example above, Entry Plan includes a complimentary shipping fee for item pick-up (within Bangkok area) once a month. You may refer to the table below for other types of storage long-termed plans.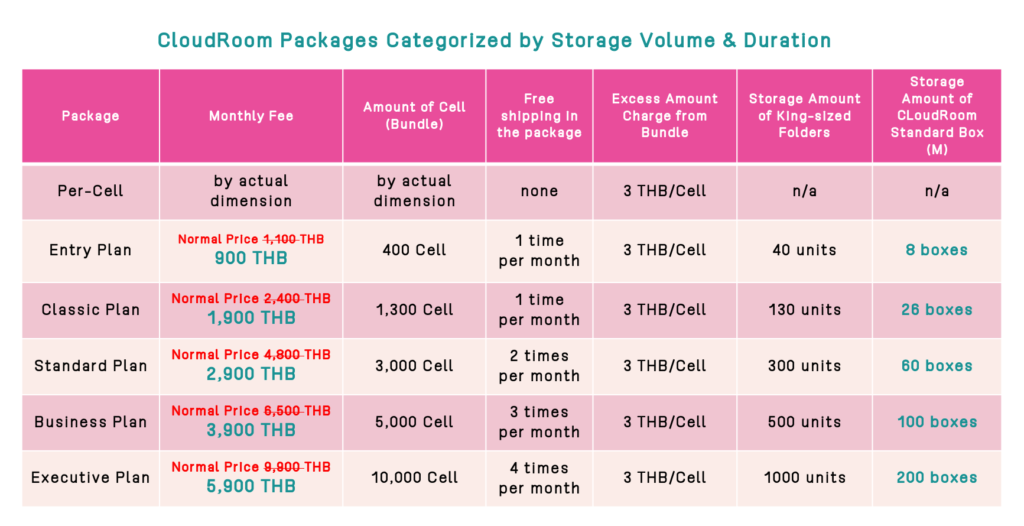 Easily Manage Accounting Documents via Web-App
If you wish to have your items at your place to be transferred to CloudRoom, you can easily send us a request via CloudRoom Web Portal, Web App or our LINE Official Account.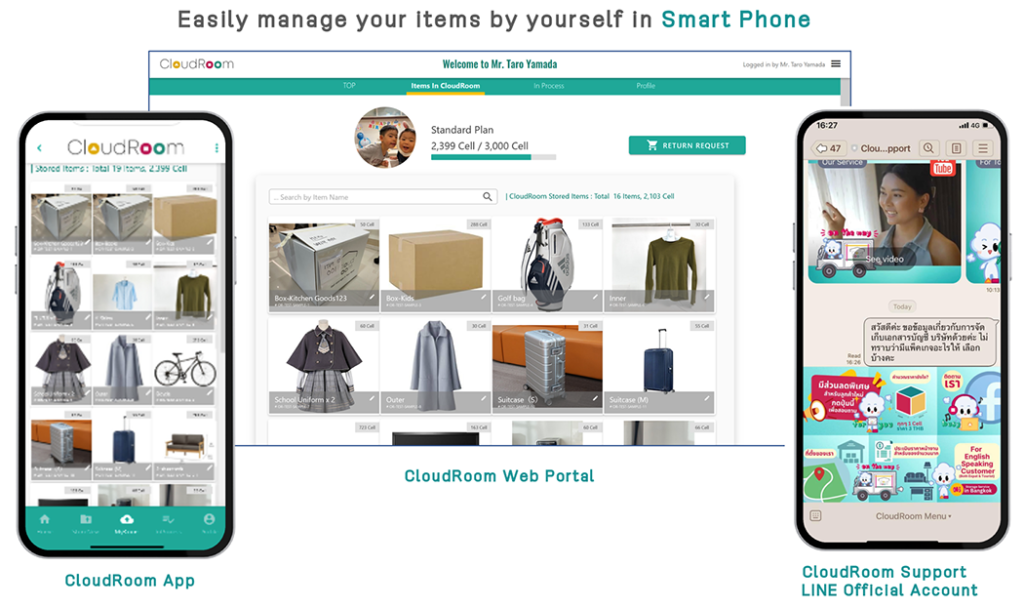 Comprehensive Secure Storage System
When storing accounting documents with CloudRoom, the customers can be confident that the documents will be stored properly with a 24-hour security system by SECOM. Furthermore, the storage area is also wholly-equipped with an air conditioning and humidity control system that operates 24 hours a day.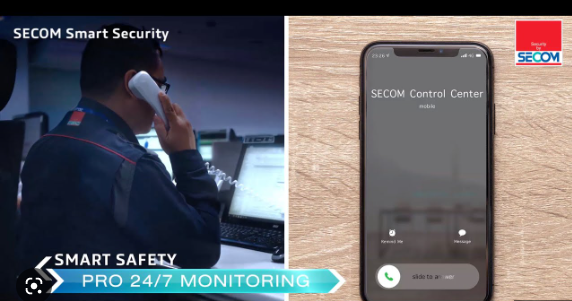 Document Destruction Service for A Seamless Experience
For a seamless experience for accounting document storage, CloudRoom also offers our customers a document destruction service to facilitate convenience for accountants. The service is conducted by CloudRoom partner with ISO standard to provide a professional service of document destruction service to our corporate customers. A request of certificate issuance can also requested at additional expense. After having kept the accounting documents for 5 years, customers can send us a request for a document destruction right away. This effectively enable managers to save a massive amount of time for document management.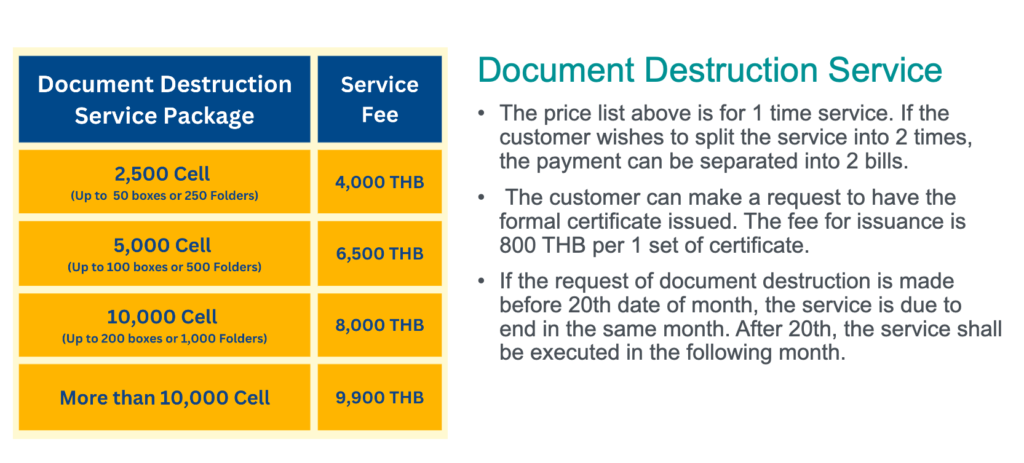 CloudRoom Anglophone